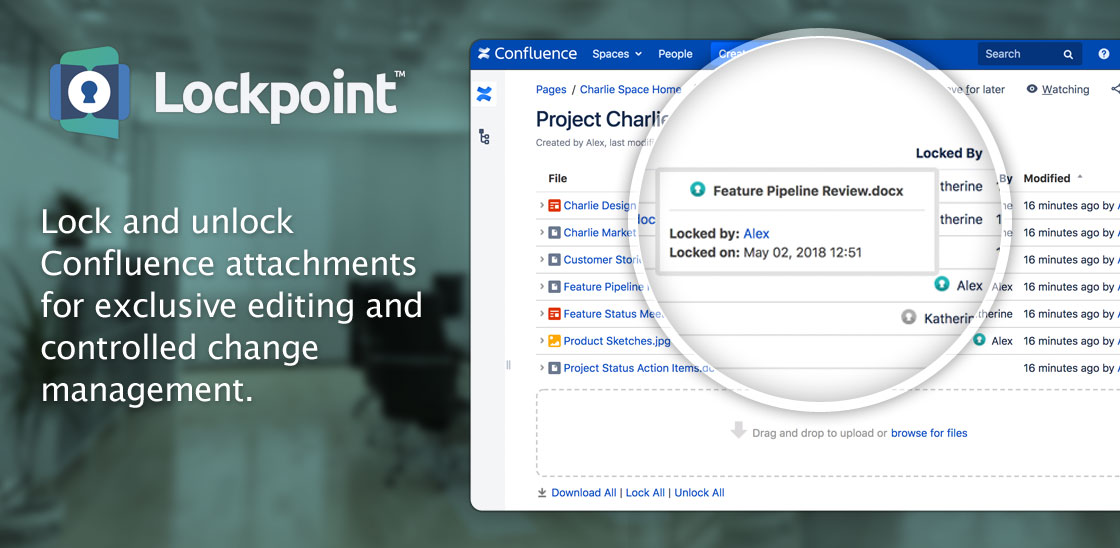 Introduction
Cenote™ Lockpoint™ is a Confluence app that provides users with the ability to lock documents for exclusive use. With Lockpoint, users are assured that their changes to documents will not be overwritten by other users.
The Lockpoint app provides seamless locking support for the "Edit in App" feature in Confluence 6.11+. Users can also manually lock documents from within Confluence.
With seamless locking, attachments are automatically locked when the application opens the document, and the attachments are automatically unlocked when the user saves the document. Other users will see files listed as in-use or read-only while the file is being edited by the owner, so users can browse and edit within your Confluence page tree without going back to the Confluence user interface to lock files.
Lockpoint is fully compatible with all of the apps that enterprise Confluence users depend on, including the Office Connector, Gliffy and Balsamiq Wireframes .
On Confluence 6.11+, all document types can be edited. For supported browsers on Confluence 6.10 and below, Lockpoint also extends one-click Edit in Office functionality to Microsoft Visio and Microsoft Project documents.
Lockpoint can automatically generate email warnings for users who have left documents locked out for an administrator-configurable interval, and it can also automatically unlock documents (and notify the user) if the lock period exceeds a second threshold. The warning and check-in thresholds can be configured separately (on a space-by-space basis) for both normal locks and files locked automatically using WebDAV.
Users can also request notifications to be sent when documents owned by others are unlocked.
On a space-by-space basis, you can also designate Lockpoint Administrators who have the ability to manually check in documents that have been checked out by others.
Cenote Lockpoint includes full translations in English, German, French, Japanese and Russian.
Cenote Lockpoint is a standard 100% Java and Confluence-native product. It requires no external configuration, no extra databases, no other tools or services, and all data stays behind your firewall.
Lockpoint and Document Security
It is important to note that Cenote Lockpoint is a business workflow tool, not a security layer.
Since Confluence itself does not support any notion of locked attachments, a malicious user could create a specially-crafted URL that would allow a user to modify an attachment that was locked by someone else.
Additionally, if you install a third-party app that allows a user to access attachments directly, the other app may also disregard the lock status of an existing attachment.
We are always looking to expand our app compatibility matrix, so if you discover such an issue with a third-party app, we will happily evaluate the app to see if we can support it.
Licensing and Pricing

Cenote Lockpoint is sold exclusively though Atlassian Marketplace. Lockpoint includes a free 30-day trial to give you the opportunity to fully evaluate the product.
For pricing details or to purchase Lockpoint, visit Atlassian Marketplace.
Support
Lockpoint is backed by the responsive Cenote Support team.
If you encounter any challenges, please let us know and we will be happy to work with you to solve your issues.